La Boheme: Checking in with Exene Cervenka

by Maw Shein Win and Kathleen Munnelly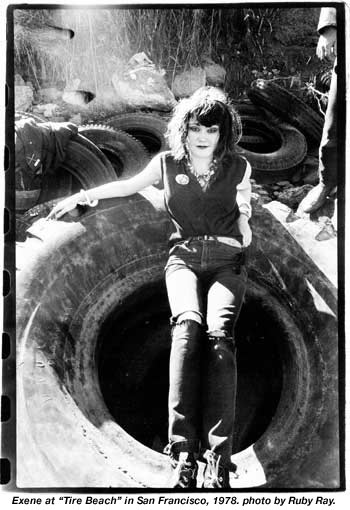 Musician and poet Exene Cervenka may not consider herself tenacious, but if tenacious means diligent and dedicated, the description certainly fits. Literally and figuratively a bohemian (her ancestors come from Bohemia, now part of the Czech Republic), Cervenka has been writing, playing music, and creating art for more than 25 years.

As one of the founders of influential Southern California band X, vocalist Cervenka, along with then-husband and bass player John Doe, guitarist Billy Zoom, and drummer D.J. Bonebrake created a distinctly American sound: a transcendent melding of fast-driving punk, rockabilly, and elements of country. Cervenka and Doe's lyrics (poetry, really) captured the stark realities and dark alleyways of city life and failed romance. From their groundbreaking debut Los Angeles (1980, Slash Records) produced by Doors legend Ray Manzarek, to their last studio album Hey Zeus! in 1993, X has earned its chapter in the annals of punk rock history. In fact, in June 2002, X was inducted into Guitar Center's celebrated Hollywood RockWalk.

Although they're not working on new material, X still tours regularly, and their live performances are still as electric as ever, bringing back delicious beer-soaked memories of their early shows at the Whisky A Go-Go in Los Angeles or Mabuhay Gardens in San Francisco.

Besides touring with X, Cervenka is also busy recording and performing with her latest band, the Original Sinners. This punk rock supergroup includes members Kim Chi and Mat Young (both ex-Distillers), Sam Soto (from Sluts for Hire) and guitarist Jason Edge. Their self-titled 2002 debut on Nitro records is aptly described as a "riotous stomp of big beat punk delight," and a second album is in the works. In addition to being the frontwoman and songwriter, Cervenka plays guitar for the Original Sinners, as she did in her previous band, Auntie Christ. Cervenka also performs occasionally with the Knitters, a country side project with Doe, Bonebrake, and Dave Alvin of the Blasters. In 1985 they released their sole album, Poor Little Critter on the Road on Bloodshot Records, a cult hit so beloved that it inspired a tribute album, Poor Little Knitters on the Road, released in 1999. The Knitters' live shows can only be characterized as pure, unadulterated fun.

But it is writing that is ultimately the core of Cervenka's art. Her lyrics and poetry are personal and impassioned, see-sawing between anger and black humor. When asked about her writing process, she observes, "I write and then decide ifcan be made into a song. I try to write simple, catchy choruses. With poetry, anything can work." She is also a fan of the chapbook format, and has put out several featuring her trademark hand-drawn illustrated writings. Cervenka often does poetry readings and participated in the first Spitfire Tour in 1998, described on its website as a "free speech tour of musicians, actors, and activists speaking out on global affairs"(www.spitfiretour.org). On that tour she performed with fellow musicians Jello Biafra, Michael Franti, and Krist Novaselic. Some of her recordings can be found on Harvey Kubernik's spoken word series English as a Second Language as well as Two Sisters, a collaboration with L.A. poet Wanda Coleman. Cervenka has also worked with Lydia Lunch on several projects, including the album Rude Hieroglyphics and a book titled Adulterers Anonymous. Her most recent collection, A Beer on Every Page (2002), contains more of her hand-lettered poems, drawings, and collage.
---
People in the original punk scene came together as a community. They had to keep it from falling apart. It's a lot of work and it takes a lot of dedication and support for those things to happen.
---
Recently, she wrote the introduction for We're Desperate – The Punk Rock Photography of Jim Jacoy, SF/LA 78-80 which features photos of Darby Crash, Flipper, The Screamers, and other original members of the West Coast punk scene. And in 1991, Cervenka collaborated with Pulitzer Prize-nominated photojournalist Kenneth Jarecke on Just Another War. Jarecke, who covered the Gulf War for Time magazine, asked Cervenka to write commentary for this collection of his photographs, many of which had been censored by news organizations.

Once intensely political in her lyrics and poetry and an outspoken critic of government action, Cervenka has stepped back from political causes. "I don't consider myself an activist," she explains. "I have supported a lot of causes emotionally and financially over the years. I've played a lot of benefits. But right now I am disappointed with the tone of the left, so I would rather keep my views and my support to myself."

Born in Illinois, Cervenka moved to Florida at 15, where she raised her sisters after her mother passed away. In 1976 she moved to Los Angeles with $80 in her pocket and immersed herself in the poetry scene. She lived above the infamous Beyond Baroque, a poetry haven in Venice, CA, and met John Doe at a workshop there. After an inspired (and impromptu) first foray into songwriting (Cervenka penned "I'm Coming Over" one night at a bar), they decided to form a band; soon after, they met Zoom and Bonebrake and X was born. While the heady, frenetic energy of the nascent punk scene spawned countless exciting bands, X was one band that stood out from the crowd with their original and intelligent lyrics and ace musicianship.

Although they quickly gained a following, X couldn't crack commercial radio. At that time, "They were still playing Fleetwood Mac and Linda Ronstadt and Motley Crue. The radio was never ever gonna play X." But if the timidity of commercial radio in the late 70s and early 80s was bad, that's nothing compared to the contempt Cervenka feels for the current state of mainstream music: "Everything post-MTV is just gonna be superficial garbage. The next 'revolution' in music will be porn stars/rap stars/rock stars. It will be way worse than the pop girls that currently grace the covers of Rolling Stone and People…. (People) would rather be entertained by pretty, young half-naked girls. They don't care what the music sounds like, only what it looks like."

Perhaps it's time for another punk movement? Cervenka is dubious. "I wouldn't know if there is a punk scene now. There probably is for young bands in small towns. Scenes only happen when it's underground and them against us. People in the original punk scene came together as a community. They had to keep it from falling apart. It's a lot of work and it takes a lot of dedication and support for those things to happen. It's not just about a bunch of bands dressing up like the Clash and Black Flag."

While Cervenka never courted mainstream acceptance, she witnessed her unique style copied by others and the ideals of the punk scene turned into a fashion statement. "The ad agencies will co-opt anything new that comes along and use (it) to sell crap so kids won't have a chance to find a common underground to join," she laments. But despite her bleak assessment of contemporary culture, Cervenka is not discouraged. "I don't care about or listen to 'alternative' commercial stations. I am not the kind of artist who gets mainstream acknowledgment. But it was not what I was looking for. The mainstream culture is for teenagers."

How does an adult artist survive in an adolescent music scene? For Cervenka, the DIY spirit is still alive and kicking. Turning her back on the major labels, she records with small independents like Nitro and sells her CDs and books through her own website (www.exenecervenka.com). She also bonds with her fans by sending out a newsletter: the dispatches from her emails are chatty, inclusive, and supportive of other bands and performers she likes (for instance, underground folkie Phranc and the 7 Shot Screamers from St. Louis). Cervenka notes, "The website and store are mine and in my control. It's much more personable to me than dealing with distributors and stores. It means a lot to me to be able to make my art and music more directly available to (my fans) instead of (dealing with) those damn corporate chains." And although her public persona is punk rock-tough, her letters have a friendly, folksy tone, and she ends many of them with "Talk to ya'll soon."

With three bands touring constantly, her writing, and her website to run, Cervenka's art is her profession. On a typical weekend in February 2003, she performed with X one night and with the Original Sinners the next. In her newsletter, she described the experience: "The whole weekend was a blast, so much fun… and what a great crowd. The Original Sinners enjoyed every second of it."

As a musician and a mother (she has a 15-year-old son), Cervenka has "never felt compelled to choose (between) being an artist and a mom." She adds, "People work forty hours a week and raise kids, why can't artists?"

One thing she doesn't have time for is nostalgia: "I don't really think it's healthy or relevant to think I had a 'heyday.' I don't live in the past and I don't refer to myself in the past tense. Every artist likes to believe their best work is ahead of them… I just work. X plays so much and my other bands are busy, so I am still having fun and making a living."

When she does have some time to herself, Cervenka likes to relax by reading, most recently the works of Alice Munro.
She has also been hauling out her Allman Brothers records and listening to lots of "old gospel and old country."

Can Cervenka imagine doing anything else besides making music and art? "Not really. I like simple small town kind of stuff. But I will always make art of some kind."
Selected discography/bibliography:
Audio:
2002 ORIGINAL SINNERS
1997 Auntie Christ, Life Could Be a Dream
1993 Surface to Air Serpents
A 2.13.61 spoken word release.

Print:
2002 A Beer on Every Page
1993 Virtual Unreality
1991 Just Another War


---
Photographer Ruby Ray is currently compiling her first wave punk portraits into a photograph book with a rebel girl-power perspective. Write her at: urbyond@sbcglobal.net
back to top